Hiya! Sasquatch here.
Hood River in the fall is magical. The sky is as clear as the lake water by my hideout. The air is as warm as my belly fur after a cozy night's sleep. And, of course, there are less humans in town so I can put my guard down.
If you're escaping to Hood River this fall, here are some ideas for what to do besides stalk me:
#6 Visit the WAAAM Museum: The Western Airplane and Automobile Museum
Imagine 3.5 acres of an indoor collection of 350+ large functional antique vessels: planes, autos, tractors, army trucks and motorcycles! The Second Saturday of each month from 10-2pm the volunteers get out the toys and drive them around. Once a month they offer a Model T Driving School, which lasts all day and includes lunch. And lastly, the Weekend After Labor Day (September 8 & 9, 2018) is the Hood River FLY-IN.
This festival features tasty nibbles, a beer garden and swarms of antique machines on the road and in the air -- all weekend long.
#5. Go Exploring: Pick up a copy of the book Curious Gorge by Scott Cook and you'll be off.
"Unlike typical "hiking" guides...Curious Gorge also details lesser-known attractions such as viewpoints, waterfalls, caves, local museums, historic relics, etc."
#4. Visit the Kennedy's in the White House:
The Gorge White House, silly! This century-old farm is home to the Oregonian Kennedy Family (can't make this stuff up) who provide a spectacular spot to visit on a fall day.
The Gorge White House offers a yummy food truck, freshly picked fruit, a gift shop with local art, Tillamook ice cream, cider, wine, beer and views!
Starting from the Mark O. Hatfield Trailhead in Hood River, this paved, restored segment of the Historic Columbia River Highway parallels the river east for 4.5 miles. The path winds gently along basalt cliffs and through forest canopies. There are a couple of minor, rolling ascents and descents that will provide some exercise for the family, but nothing too strenuous.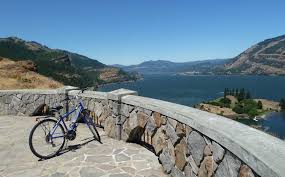 Along the route, there are viewpoint pullouts and remnants of the old Historic Highway, which are perfect spots for a water or snack break.
#2. Visit Marchesi Vineyards:
This winery features gorgeous views, award-winning wines and a trip to the Italian countryside. Franco Marchesi, will be at hand to welcome you.
#1. Witness the Windsurfing/Kite Surfing/Stand Up Paddleboarding at Hood River's Event Site: You don't have to be a boarder to enjoy all the activity on the river. Along with several outfitters offering beginner lessons and rentals, there are food and beverage venders and plenty of boardwalk chairs for people watching.
Whether you're in Hood River to wander the majestic forest or saunter the streets, this town in the fall is the ultimate getaway.
If you're looking for a spot to stay overnight you will never forget, check out Hood River's newest Bed and Breakfast Lodge 902, just steps away from the downtown hubbub. You'll find crazily comfy new bedding, quirky interior design, self check-in and check-out and a scrumptious breakfast!
The Lodge is also available for rent in its entirety and is already filling up for summer of 2019.
Not looking forward to meeting you,
Squatch