Hiya, Sasquatch here. Squatch for short.
Like the steady hum of electricity under power lines, lately there's a low murmur at Lodge 902's breakfast table. Sorry, Hood River, but Mosier -- your much less endowed neighbor to the east -- is currently transmitting an energy outward.
Of course, everyone knows to bike or walk the Mosier Tunnels, the 4.5 mile scenic paved trail between the two towns. But now, you humans are whispering about two spots that give Mosier the double-take: Rack & Cloth and Analemma Winery.
If you seek unusual and memorable havens, downtown Mosier is home to Rack and Cloth Cidery and Eatery. Its new owners since 2016 produce top-notch cider, using the apple pomace from pressings to feed their livestock, who, in turn, fertilize the orchard. Their menu includes cider, rotating beers on tap, local wines to enjoy with farm-to-table salads, soups and pizzas. Open nightly 5-9pm. Live music most Sundays 7-9pm.
Just 1.2 miles into the hills from from Rack & Cloth, Analemma Winery, boasts a tasting room of modern architecture and a Sunset Magazine shoot-worthy patio from which to sip their high quality wines. Currently they offer a complimentary Vineyard Excursion on Saturdays at 1pm, a $20 Seated Tasting at 1pm on Sundays and picnic baskets for 4 people/$65 to enjoy 12-5pm on Sundays with the Mosier Hills as your backdrop. Their cellar door is open 12pm-6pm Friday, Saturday and Sunday, April 1 to October 31.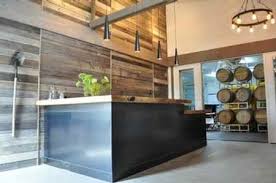 The Analemma Tasting Room -- contemporary yet rustic
Of course Hood River is still the crown jewel of the Gorge and if you're staying overnight and love kitch, check out these photos of Lodge 902. It's Hood River's newest Bed & Breakfast (and rentable house) with 6 bedrooms/ensuite bathrooms and outstanding Gorge views from the veranda.
Not looking forward to meeting you,
Squatch